Cristiano Ronaldo sent off in Real Madrid's draw at Athletic Bilbao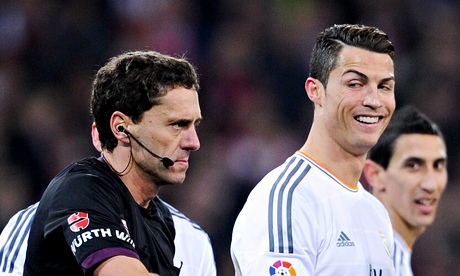 Cristiano Ronaldo, the Real Madrid forward, is shown a red card during the 1-1
draw at Athletic Bilbao. Photograph: David Ramos/Getty Images
Cristiano Ronaldo was controversially sent off as 10-man Real Madrid were held to a 1-1 draw at Athletic Bilbao on Sunday at San Mamés.
The timing could not have been worse for Real as their city rivals Atlético went top of La Liga with a 4-0 victory over Real Sociedad.
Ronaldo was sent off for reacting to a shove by Carlos Gurpegi and then a confrontation with Ander Iturraspe in the 75th minute, although he appeared to be more sinned against than sinner.
Only a minute earlier Athletic had scored a brilliant equaliser through the substitute Ibai with only his second touch after coming on, firing in a bouncing ball from the edge of the area.
Real Madrid held on for a point, having gone ahead after 65 minutes through the striker Jesé on his first league start, but the loss of Ronaldo through suspension, for a possible three games, could well have an impact in the Primera Division title race.
These two dropped points left them three points behind Atlético and level with Barcelona.
Atlético Madrid took advantage of Barcelona's slip to go top of La Liga with a 4-0 victory over Real Sociedad at the Calderón on Sunday, where fans gave an emotional send-off to the former coach and player Luis Aragonés, who died on Saturday.
The win lifted Atlético three points clear of Barcelona on 57 points after the Catalan side lost 3-2 to Valencia on Saturday. Real Madrid can also move ahead of the champions when they play Athletic Bilbao later on Sunday.
After a cagey opening David Villa put Atlético ahead on 38 minutes before going off injured. Second-half goals by Diego Costa, João Miranda and Diego sealed the win.
Earlier on Sunday Christian Herrera gave Elche a 1-0 win over Almería and a Rubén Castro double gave the bottom side Real Betis a 2-0
We'd like to send you the most entertaining World Football articles, videos, and photos from around the web.Subscribe now!